Difference between revisions of "Sunil K. Narang"
From WikiBiron
 

(105 intermediate revisions by 2 users not shown)
Line 1:
Line 1:
−

== Sunil Kumar ==

+

== Sunil ==

 
+
 
+
 
 
−

http://biron.usc.edu/~kumarsun/Resume/me.jpg

+
 
 
−

Ph.D. student  [http://biron.usc.edu/~kumarsun/Resume/CV.pdf <small><b>(CV)</b></small>]

+
 
 
−

Department of Electrical Engineering - Systems

+

-

 
 
−

University of Southern California

+
 
 
−

Los Angeles, CA

+
 
 
−

E-mail: kumarsun@usc.edu

+

: ://../

−

 

 
−

Advisor: [http://sipi.usc.edu/~ortega Antonio Ortega]

 
 
 
 

== Research Interests ==

 

== Research Interests ==

−

* Signal Processing on Graphs

+

* Signal Processing

−

* Image Processing

+

on Graphs

−

* Wavelet Transforms

+

* Image

 
+
 
+
 
+

* Wavelet Transforms

 
+
 
 
 

== Education ==

 

== Education ==

Line 28:
Line 32:
 
 
 

== Professional Experience ==

 

== Professional Experience ==

 
+
 
+
 
+
 
+
 

*[http://www.watson.ibm.com/index.shtml IBM Watson Research Lab, Yorktown]:  May 2010 - Aug. 2010

 

*[http://www.watson.ibm.com/index.shtml IBM Watson Research Lab, Yorktown]:  May 2010 - Aug. 2010

−

**Summer Intern, Business Analytics and Mathamatical Sciences (BAMS) Group

+

**Summer Intern, Business Analytics and Sciences (BAMS) Group

 
 
 

*[http://www.research.ibm.com/irl IBM India Research Lab]:  Dec 2005 - July. 2007

 

*[http://www.research.ibm.com/irl IBM India Research Lab]:  Dec 2005 - July. 2007

Line 38:
Line 46:
 

**Design and development of bioinformatics projects like Gel Image Analysis, QTL Mapping and Gene Prediction.

 

**Design and development of bioinformatics projects like Gel Image Analysis, QTL Mapping and Gene Prediction.

 
 
−

== Fellowships / Awards ==

+

== / Awards ==

 
+
 
+
 

*[http://www.usc.edu/schools/GraduateSchool/current_fellowships_03.html Annenberg Graduate Fellowship](Aug.2007 - July 2009)

 

*[http://www.usc.edu/schools/GraduateSchool/current_fellowships_03.html Annenberg Graduate Fellowship](Aug.2007 - July 2009)

 

* Research Assistance Award (Aug 2009 - Present)

 

* Research Assistance Award (Aug 2009 - Present)

 
 
 
+
 
+
 
+
 
+
 
+
 
+
 
+
 
+
 
+
 
+
 
+
 
+
 
 
 
+
 
+
 
+
 
+
 
+
 
+
 
+
 
+
 
 
 

== Conference Publications ==

 

== Conference Publications ==

 

<ul>

 

<ul>

−

<li> G. Shen, W.-S. Kim, S.K. Narang, A. Ortega, J.Lee and H.C. Wey, "Edge-adaptive Transforms for Efficient Depth-map Coding". <i>Submitted to 2010 Picture Coding Symposium (PCS'10)</i>.</ul>

+
 
+
 
+
 
+
 
+
 
+
 
+
 
+
 
+
 
+
 
+
 
+
 
+
 
+
 
+
 
+
 
+
 
+
 
+
 
+

<li> G. Shen, W.-S. Kim, S. K. Narang, A. Ortega, J. Leeand H. Wey, "Edge-adaptive for -map " <i> Picture Coding Symposium (PCS )</i>.</ul>

 

  <ul>

 

  <ul>

−

<li>S.K. Narang and A. Ortega, "Local Two-Channel Critically Sampled Filter-Banks On Graphs",<i>To appear in Intl. Conf. on Image Proc. (ICIP'10),</i>

+

<li>S.K. Narangand A. Ortega, "Local Two-Channel Critically Sampled Filter-Banks On Graphs",<i>Intl. Conf. on Image Proc. (ICIP'10),</i

 
+
 
+

>

 

<ul>

 

<ul>

−

<li> S.K. Narang, G. Shen and A. Ortega, "Unidirectional Graph-based Wavelet Transforms for Efficient Data Gathering in Sensor Netowkrs". <i>To Appear in 2010 IEEE Intl. Conf. on Acoustics, Speech and Signal Processing (ICASSP'10),</i> Dallas, April 2010.</ul>

+

<li> S.K. Narang, G. Shen and A. Ortega, "Unidirectional Graph-based Wavelet Transforms for Efficient Data Gathering in Sensor ". <i>IEEE Intl. Conf. on Acoustics, Speech and Signal Processing (ICASSP'10),</i> April 2010.

 
+

</ul>

 

<ul>

 

<ul>

−

<li> S. K. Narang and A. Ortega, "Lifting Based Wavelet Transforms on Graphs". <i>In Proc. of 2009 APSIPA Annual Summit and Conference (APSIPA ASC 2009)</i> Sapporo, Japan [http://biron.usc.edu/~kumarsun/papers/APSIPA_09_Graph_Lifting.pdf <small><b> PDF format</b></small>]</ul>

+

<li> S. K. Narangand A. Ortega, "Lifting Based Wavelet Transforms on Graphs". <i>APSIPA Annual Summit and Conference (APSIPA ASC 2009)</i> Sapporo, Japan [http://biron.usc.edu/~kumarsun/papers/APSIPA_09_Graph_Lifting.pdf <small><b> PDF format</b></small>]</ul>

 

<ul>

 

<ul>

−

<li> G. Shen, S. K. Narang and A. Ortega, "Adaptive Distributed Transforms for Irregularly Sampled Wireless Sensor Networks". <i>In Proc. of 2009 IEEE Intl. Conf. on Acoustics, Speech and Signal Processing (ICASSP'09),</i> Taipei, April 2009.

+

<li> G. Shen, S. K. Narangand A. Ortega, "Adaptive Distributed Transforms for Irregularly Sampled Wireless Sensor Networks". <i> IEEE Intl. Conf. on Acoustics, Speech and Signal Processing (ICASSP'09),</i> Taipei, April 2009.

 

[http://biron.usc.edu/~godwinsh/Papers/ICASSP09_Filter_Opt.pdf <small><b>PDF format</b></small>]</ul>

 

[http://biron.usc.edu/~godwinsh/Papers/ICASSP09_Filter_Opt.pdf <small><b>PDF format</b></small>]</ul>

 

<ul>

 

<ul>

−

<li> A.R. Choudhury, A. King, S. Kumar and Y. Sabharwal, "Optimizations in financial engineering: The Least-Squares Monte Carlo method of Longstaff and Schwartz". <i> In Proc. of 2008 IEEE International Symposium on Parallel and Distributed Processing. (IPDPS 2008):pp 1-11 April 2008 </i></ul>

+

<li> A.R. Choudhury, A. King, S. Kumarand Y. Sabharwal, "Optimizations in financial engineering: The Least-Squares Monte Carlo method of Longstaff and Schwartz". <i> In Proc. of 2008 IEEE International Symposium on Parallel and Distributed Processing. (IPDPS 2008):pp 1-11 April 2008 </i></ul>

 
+
 
+
 
+

 

 
+
 
+
 
+
 
+

 

 
+
 

<ul>

 

<ul>

−

<li> A. Gupta, S. Kumar, R. Gupta, S. Chaudhury, S. D. Joshi, "Enhancement of Old Manuscript Images". <i>In Proc. of 2007 Ninth International Conference on Document Analysis and Recognition (ICDAR 2007)</i>: vol2 744-748 Sep. 2007</ul>

+

<li>S. . , "". <i></i> :.</ul>

 
 
 

<ul>

 

<ul>

−

<li> S. Kumar, N. Khanna, S. Chaudhury, S. D. Joshi, "Locating Text in Images using Matched Wavelets". <i>In Proc. of 2005 Eighth International Conference on Document Analysis and Recognition (ICDAR 2005) </i>: vol2 595-599 Sep. 2005</ul>

+

<li> S. , .

 
+
 
+

, . , ...<></

 
+
 
+

> :.</ul>

 
 
 

== Course Reports ==

 

== Course Reports ==

Line 73:
Line 137:
 

<li> S. K. Narang, "Low Dynamic Range (LDR) Video Camera System". <i> Semester Project Report: EE586L(Advanced Digital Signal Processing Lab) Spring 2009 </i> USC [http://biron.usc.edu/~kumarsun/Reports/EE586L.pdf <small><b> PDF format</b></small>]</ul>

 

<li> S. K. Narang, "Low Dynamic Range (LDR) Video Camera System". <i> Semester Project Report: EE586L(Advanced Digital Signal Processing Lab) Spring 2009 </i> USC [http://biron.usc.edu/~kumarsun/Reports/EE586L.pdf <small><b> PDF format</b></small>]</ul>

 
 
−

== Journal Publications ==

 
−

<ul>

 
−

<li> S. Kumar, R. Gupta, N. Khanna, S. Chaudhury and S.D. Joshi, "Text Extraction and Document Image Segmentation Using Matched Wavelets and MRF Model,". <i> IEEE Transactions on Image Processing, </i>: vol.16, no.8, pp.2117-2128, Aug. 2007 </ul>

 
−

 
−

<script type="text/javascript">

 
−

 
−

  var _gaq = _gaq || [];

 
−

  _gaq.push(['_setAccount', 'UA-18328726-1']);

 
−

  _gaq.push(['_trackPageview']);

 
−

 
−

  (function() {

 
−

    var ga = document.createElement('script'); ga.type = 'text/javascript'; ga.async = true;

 
−

    ga.src = ('https:' == document.location.protocol ? 'https://ssl' : 'http://www') + '.google-analytics.com/ga.js';

 
−

    var s = document.getElementsByTagName('script')[0]; s.parentNode.insertBefore(ga, s);

 
−

  })();

 
 
 
−

</script>

+
 
+

/

 
+
---
Latest revision as of 12:28, 10 October 2015
Sunil K Narang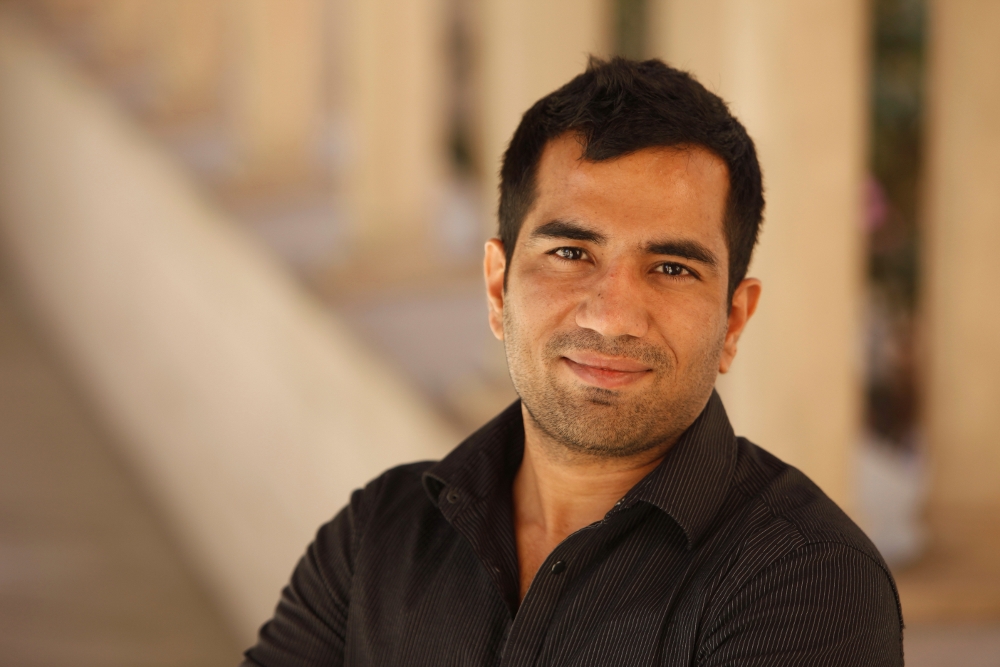 Software Development Engineer
Microsoft Bing
One Microsoft Way
Redmond, WA 98052-6399
USA
Email: narang.sunil@gmail.com
LinkedIn: https://www.linkedin.com/in/sunilknarang
Research Interests
Graph Signal Processing,
Statistics and Data-mining on Graphs,
Digital Signal/Image processing,
Machine Learning,
Distributed Compression,
Wavelet Transforms,
High Performance Computing
Education
Aug. 2007-present: University of Southern California, Los Angeles, CA

Ph.D. student, Department of Electrical Engineering-Systems

Aug. 2001-Jun. 2005: Indian Institute of Technology, Delhi

Bachelor of Technology in Electrical Engineering, Jun. 2005, Department of Electrical Engineering
Professional Experience
Microsoft Bing: July 2013 onwards
Department of Electrical Engineering USC: July 2012 - July 2013
IBM Watson Research Lab, Yorktown: May 2010 - Aug. 2010

Summer Intern, Business Analytics and Mathematical Sciences (BAMS) Group
IBM India Research Lab: Dec 2005 - July. 2007

Technical Staff Member in Systems, High Performance Computing Group
Mascon Life Sciences: Sep 2005 - Dec. 2005

Executive Software Engineer
Design and development of bioinformatics projects like Gel Image Analysis, QTL Mapping and Gene Prediction.
Honors / Awards
Patents
A. Ortega, S.K. Narang, G. Shen, and J. Perez-Trufero, "Distributed Transforms for Efficient Data Gathering in Sensor Networks", January~19 2012, US Patent 20,120,014,289
J. J. Lee, H. C. Wey, G. Shen, W. S. Kim, A. Ortega, S. K. Narang, D.Park, "System and method for encoding/decoding videos using edge-adaptive transform", Oct 2013, US Patent 20130272422 A1.
PhD Dissertation
Journal Publications
David I Shuman, Sunil K. Narang, Pascal Frossard, Antonio Ortega, Pierre Vandergheynst, "Signal Processing on Graphs: Extending High-Dimensional Data Analysis to Networks and Other Irregular Data Domains", to appear SPM 2013, arXiv:1211.0053
S. K. Narang and Antonio Ortega, "Compact Support Biorthogonal Wavelet Filterbanks for Arbitrary Undirected Graphs", under review IEEE TSP, arXiv:1210.8129
S. K. Narang and Antonio Ortega, "Perfect Reconstruction Two-Channel Wavelet Filter-Banks For Graph Structured Data", IEEE Transactions on Signal Processing (TSP) PDF format, Matlab Toolbox
S. Kumar, R. Gupta, N. Khanna, S. Chaudhury and S.D. Joshi, "Text Extraction and Document Image Segmentation Using Matched Wavelets and MRF Model,". IEEE Transactions on Image Processing(TIP),
Conference Publications
S.K. Narang, Y. H. Chao and A. Ortega, "Graph-wavelet filterbanks for edge-aware image processing", IEEE Statistical Signal Processing (SSP'12)
M. Levorato, S.K. Narang, U. Mitra, A. Ortega, Reduced Dimension Policy Iteration for Wireless Network Control via Multiscale Analysis, GlobeCom 12 Best Paper Award
S.K. Narang and A. Ortega, "Multi-dimensional separable critically sampled wavelet filterbanks on arbitrary graphs",IEEE Intl. Conf. on Acoustics, Speech and Signal Processing (ICASSP'12) PDF format, Poster
Woo-Shik Kim, S.K. Narang and A. Ortega, "Graph based transforms for depth video coding",IEEE Intl. Conf. on Acoustics, Speech and Signal Processing (ICASSP'12) PDF format
S.K. Narang and A. Ortega, "Downsampling Graphs Using Spectral Theory",IEEE Intl. Conf. on Acoustics, Speech and Signal Processing (ICASSP'11), PDF format, Poster
J. P.-Trufero, S.K. Narang and A. Ortega, "Distributed Transforms for Efficient Data Gathering in Arbitrary Networks",Intl. Conf. on Image Proc. (ICIP'11), Presentation
G. Shen, W.-S. Kim, S. K. Narang, A. Ortega, J. Lee, and H. Wey, "Edge-adaptive transforms for efficient depth-map coding," Picture Coding Symposium (PCS '10), Nagoya, Japan, Dec. 2010.PDF format
S.K. Narang and A. Ortega, "Local Two-Channel Critically Sampled Filter-Banks On Graphs",Intl. Conf. on Image Proc. (ICIP'10), PDF format, Poster
S.K. Narang, G. Shen and A. Ortega, "Unidirectional Graph-based Wavelet Transforms for Efficient Data Gathering in Sensor Networks". IEEE Intl. Conf. on Acoustics, Speech and Signal Processing (ICASSP'10), April 2010. PDF format
S. K. Narang and A. Ortega, "Lifting Based Wavelet Transforms on Graphs". APSIPA Annual Summit and Conference (APSIPA ASC 2009) Sapporo, Japan PDF format
G. Shen, S. K. Narang and A. Ortega, "Adaptive Distributed Transforms for Irregularly Sampled Wireless Sensor Networks". IEEE Intl. Conf. on Acoustics, Speech and Signal Processing (ICASSP'09), Taipei, April 2009. PDF format
A.R. Choudhury, A. King, S. Kumar and Y. Sabharwal, "Optimizations in financial engineering: The Least-Squares Monte Carlo method of Longstaff and Schwartz". In Proc. of 2008 IEEE International Symposium on Parallel and Distributed Processing. (IPDPS 2008):pp 1-11 April 2008
A. Gupta, S. Kumar, R. Gupta, S. Chaudhury, S. D. Joshi, "Enhancement of Old Manuscript Images". International Conference on Document Analysis and Recognition (ICDAR 2007): vol2 744-748 Sep. 2007 PDF format
S. Kumar, N. Khanna, S. Chaudhury, S. D. Joshi, "Locating Text in Images using Matched Wavelets". International Conference on Document Analysis and Recognition (ICDAR 2005) : vol2 595-599 Sep. 2005 PDF format
Invited Talks
S. K. Narang, "Wavelet Filterbanks on Graphs: A New Tool for Multiresolution Analysis". UC San Diego, Dec 2012 Presentation
S. K. Narang, "Critically Sampled Wavelet Filterbanks on Graphs". CommNetS seminar, USC, Jan 2012 Presentation
ITA graduation day, San Diego, Feb. 2012, Poster
Course Reports
S. K. Narang, "Community detection in Social Networks using Wavelets". Semester Project Report: EE596(Wavelets) Fall 2008 USC PDF format
S. K. Narang, "Compress Sensing of Public Opinion in a Social Network Using Ising Model". Semester Project Report: EE599(Large Scale Systems and Message Passing Algorithms) Fall 2009 USC PDF format
S. K. Narang, "Low Dynamic Range (LDR) Video Camera System". Semester Project Report: EE586L(Advanced Digital Signal Processing Lab) Spring 2009 USC PDF format
Software